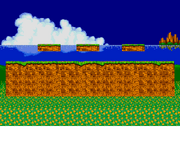 Info
Emerald Hill Zone, orignally called Emarald Hills, is a starter stage and represents all the Sonic series' characters who are playable in Super Smash Flash. It comes from the Sonic universe, and is the name of the first level in the Sega Mega Drive/Genesis Sonic the Hedgehog 2 video game.
Home Stage To
This stage is home to:
Layout
It is a simple stage with one major grassy-platform and three jump/duck-able grassy-platforms all at the same level (about a jump's length). It is the second largest stage in the game (after Hyrule Temple).
Music
The stage's BGM is the original Emerald Hill Zone theme from Sonic the Hedgehog, the intro is ommited and the music starts playing right into the portion it would loop again.
Trivia
2 versions of Emerald Hill Zone exist in Race to the Finish that are just longer versions of this stage with more platforms in the middle and another large platform at the end. They are, however, not the same as one has a more diagonal direction while the other is straighter.
On the launch of Super Smash Bros. Brawl, many websites that provided information of Super Smash Flash, incorrectly called this stage Green Hill Zone.